Do You Want Greatness In Life And Other Things? Do This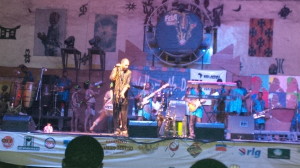 The road to greatest they say is not straight and easy, I guess that's why you never really find too many people achieve it.
The idea of this blog post came to my mind at around 10.45pm sitting in the midst of thick cloud of smoke coming from the mouth of stark raving fans of Femi kuti the true son of his father while doing what he knows best…Music
As I sat down in awe looking at Femi Kuti create art with music, I could stop thinking his road to greatness and like he read my mind, he dropped some golden nuggets that helped him achieve greatest.
Right before my brown tender eyes in my big goggle, I could see a legends doing what he knows best.
Femi Kuti said to achieve greatest in his art, the least hours in spends per day practicing is 6 hours.
That is a whole life of dedication to what he does, no wonder he recognized all over the world for what he does.
So what has that got to do with you taking charge of your finance and also creating a better life for yourself.
Here is one fact, you will never be able to truly enjoy freedom if you are not dedicated to what you want to achieve.
For me to get to this point in my career, I practically lived Internet marketing and everything related to it.
I spend most of my time reading, study, testing, twerking, practicing what I learn every day of my life.
Femi Kuti shared a story on stage saying back in 1984 when he Father the King of AfroBeat himself Late Fela Anikulapo Kuti, he went to stay with his grandma and one day his grandma told him what a worthless musician he was, Then he asked why she said that; then the grandma asked him which great saxophonist has he seen that doesnt practice of play his intrument for 2 weeks?
This goes a long way to show that practice and consistently is the key to greatness.
No one achieve true greatest without a life of dedication to what you do.
Most of my day is spend on the internet doing something or learning. That is why I can boastfully say I am on the road to greatest.
What do you want to achieve, is it financial freedom and independence? You need to take a conscious step toward achieving it even if all you can spare every day is just two hours daily doing what you need to do to achieve greatness out of your busy work schedule, you need to be consistent with it and before you know it, you will be at your desired destination.
Creating a second income online is not rocket science, you just need to give more time to things you need to learn and do to achieve your desired result.
Will also like to hear your opinion about this post in the comment below…
If you have benefitted from this articles and will like to share with your friends on facebook, twitter or google plus, click any of the button below.